Albert2kls
Forum Regular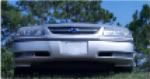 Joined: Jul 23, 2011
Posts: 299
Posts per day: 0.13
Location: Treasure Coast, FL

2000 Chevrolet Impala
1975 Pontiac Trans Am



Posted: Fri Aug 12, 2011 7:50 am

Post subject:
---
When I had my P71 crown vic police car I pulled the seats out and the rubber floor out, sprayed a 50/50 water and Purple Power across the whole floor, let soak for 5 minutes, used a hard bristled scrub brush to get deep in the textured groved, scrubed it all down real good, rinsed with the highest pressure nozel on the regular hose real well and let dry. It came out like new.
I did that because I took it out of the car, you can do the same thing in the car but need to wipe with a clean rag instead of using a hose, and also make sure the brush dosnt splash the dirty water on the seats.